With all the depressing news coming out of the Boston sports world the last few weeks, this one hit me the hardest. I have tried to repress the thought of my favorite Boston athlete of all-time but I can't just pretend it didn't happen forever. This picture was the background of my computers desktop, back when desktops were a thing. Eventually this season I will see him in a Nets' jersey coming back to the Garden in an attempt to beat the Celtics. That may be the only moment sadder than hearing the news of him officially being traded. I can only hope he shoots 3/24 in such a game accidentally on purpose.
At this point I want the Celts to trade Rondo and go for Wiggins. If he at least doesn't get a severe case of tankisitis I will be disappointed. I also love/feel bad for the Brad Stevens signing. He does a great job working with kids, he's a great strategist, and has the potential to be an all-time Celts great, but given the way the world/NBA works now-a-days he won't get a shot to coach the C's when they become good again.
I hope you enjoyed your holiday, I hope you enjoy the UFR double billing and I hope you enjoy reading this column knowing I will be writing it while fighting back tears the entire time.
Enough stalling, back to being emotional about The Truth's departure from Boston...
My father raised me from a young age to become a gigantic Celtics fan. He brought me to many Celtics games but one stands out in my mind as the reason I fell in love with the Celts and it has nothing to do with #34. I'll set the scene for you...
March 22, 1996. The Nuggets Reggie Williams hits a three pointer to take the lead 98-97 with just 0.4 seconds remaining in the game. Pops begs an eight year old mlz to let us leave and beat some traffic like a lot of people around us decided to do. "There's still time left, anything is possible" I told my father. We sat seven rows back underneath the hoop the Celtics were defending and on the same side of the upcoming inbounds pass. Rick Fox would be making that pass and he would have to do so with 7'2 Dikembe Mutombo guarding him. When the impossible happened. Rick Fox tossed it in over Mutombo's reach off the backboard, on the hoop opposite us, right to Greg Minor who flipped the ball up and through the hoop for a 99-98 win. It's probably obvious when I say never in my eight years had I experienced anything like that. The place went nuts, my pops went nuts, I went nuts and true love was found.

PS: Here's a video of the top 10 buzzer beaters of the year that year. I would have incorporated it into my point but HostGator is stupid and wouldn't allow it. Regardless it's #5 which is a travesty and a personal shot at my child psyche. Skip ahead to 1:10 for the shot I'm talking about...

121 losses later the Celtics drew the #10 pick in the 1998 draft and took a small forward out of Kansas coming out of college after his junior year, named Paul Pierce. All I knew about him was from watching the Big 12 tournament, where he was MVP in 1997 and 1998. He was also a first team All American in 1998. Little did I know he would be the player that would marry me to the Celtics for the rest of my life.
Early on in his rookie season Pierce made it clear he had the ability to be a top-notch scorer as well as the ability to be one of the best rebounding guards in the game. In his rookie season, the lockout shortened 1998-99 season, Pierce started 47 of 48 games averaged 16.5 points per game and 6.4 rebounds per game in 34 minutes per game, while shooting 44% from the field and over 41% from three.
The miraculous part of this story is that roughly two months later Pierce took the floor and went on to be the only Celtics player to play in all 82 games of the 2000-01 season, where he made his first leap as an individual player. He raised his per game averages from 19.5ppg and 5.4rpg in 1999-00 to 25.3ppg and 6.4 rpg in 2000-01. Perhaps the best example was his infamous performance on March 13th against the Lakers. Against the defending champion Lakers, Pierce tallied 42 points on 13 of 19 shooting in a 112-117 road loss. After the game Shaq was finishing up with a few reporters when he noticed a Celtics writer and ran over to burst into a complimentary rant about Pierce...
"Take this down. My name is Shaquille O'Neal and Paul Pierce is the mother fucking truth. Quote me on that, and don't take nothing out. I knew he could play, but I didn't know he could play like this. Paul Pierce is the truth."
Pierce had earned that nickname with his play and he earned the love of the hometown fans with his determination to battle back from being stabbed 11 times to not miss a single game. I think this is when every real Celtics fan fell in love with him.
In the 2001-02 season Pierce became elite. He topped the NBA with 2,144 total points, becoming the first Celtics player in history to do so. His per game averages jumped again to 26.1ppg and 6.9rpg, while he raised his three point percentage 2.1 points to 40.4% and his free throw percentage 6.5 points to 80.9%.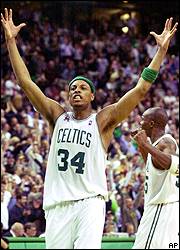 Most importantly that year he did the unthinkable... he brought the Celtics back to the postseason for the first time since the 1994-95 season. But he wasn't finished there. In the first round they dispatched of Allen Iverson and the 76ers in five games including Game 5, one of the more memorable Celtics games of my lifetime. Amidst a battle to reach the second round the Celtics found some of the luck of the Irish and started hitting ridiculous three after ridiculous three to assure they wouldn't be blowing a 2-0 series lead in this best of 5 matchup. They hit an NBA Playoff record nine in the 4th quarter and 19 for the game. Pierce of course setting the tone with his 8/10 shooting from beyond the arc and 46 total points.
In Round 2 it took them just five games to bounce the second seeded Pistons before they headed to the Conference Finals for the first time in 10 years where Pierce put a lasting stamp on the NBA. The two teams split the first two games in New Jersey before heading back to Boston for Game 3. The Celtics trailed 74-53 heading into the 4th quarter. Then Paul Pierce proved to be "The Truth". Pierce scored 19 of his 28 points in the final 12 minutes pulling off the largest 4th quarter comeback in NBA playoff history. The Celtics outscored the Nets 41-16 in the final frame and when the final horn sounded Pierce's teammates mobbed him at center court before he burst free and jumped up on the scorers table. He even got a rise out of stoic coach Jim O'Brien. Sure they went on to lose the series in six games but that performance was one for the ages and a little forecast of what was to come.
In 2002-03 Pierce was back at it. He led the NBA in free throws made with 604 which also broke a Celtics franchise record. He helped the Celtics grab the sixth seed in the East and led them to a first round victory over the Pacers. In that series he set two more franchise records, one for most free throws made without a miss in the playoffs at 21 and the other most points scored in one half of a playoff game with 33 in the second half of Game 4.
Unfortunately it was basically all downhill from there. They got swept by the Nets in the second round that season. The next year they got swept out of round 1 by the Pacers. In 2004-05 Pierce did lead the Celtics to their first division title since 1991-92 but with a 45-37 record the rest of the division deserves a ton of credit.
In 2005-06 Pierce had probably his best individual season but was stuck on a lottery team. Without Pierce they might have not won a game all year. Pierce's most impressive run of games came between February 4th and March 12th in 2006 where he scored 30+ points in 13 of 14 games, the best such run in Celtics history. He even hung 50 on the Lebron and the Cavs. But regardless,the C's were headed to the lottery yet again.

The 2006-07 campaign was doomed before it started. Just days before the start of the Celtics' season, Celtics' great Red Auerbach passed away at 89. That set the tone for this group. Pierce played in just 47 games thanks to a stress reaction in his foot/the team trying to tank to get a top pick in the lottery and secure either Greg Oden or Kevin Durant. Without Pierce, Doc Rivers and the rest of the gang managed to lose 18 consecutive games and 39 of 42. Pierce would eventually return in February to win 5 out of 6 games. Also in March this C's team stunned the eventual champion Spurs by beating them for the first time since the Spurs landed Duncan. Pierce ended up back on the injured list and the Celts ended up with the second worst record in the NBA but came out of the draft lottery picking 5th.
Just when we all thought PP would ask for a trade deals for all stars Ray Allen and Kevin Garnett landed in the lap of GM Danny Ainge reinvigorating a struggling franchise.

That teams' 66-16 record marked the biggest single season turnaround in NBA history. They matched the win total from the year before on December 27. They clinched a playoff berth on March 5th. They won 50 games for the first time since 91-92 on March 10th. They clinched the Atlantic division on March 14th. They won their 60th game on April 2nd. They clinched the best record in the NBA on April 5th. They started the season 20-2 matching the best start in Celtics history and best since 1963. With their 27-3 start they matched the best start in NBA history. With their 34-7 start they matched the a franchise record for best record in the first half of the season. They went 6-0 against Texas, they started 16-0 against the Western Conference and ultimately they beat every team in the league at least once.
Of course we remember their struggles in the playoffs. It took them seven games to beat Atlanta. It took seven games and perhaps the most impressive performance of Pierce's career when he outdueled Lebron and the Cavs in Game 7. He needed every one of the 41 points he scored to hold off James and head back to the Conference Finals. Pierce and the C's got their act together and only required six games to knock off the Pistons to advance to the finals for the first time in Pierce's career.
Game 1 of the finals showcased your average Celtics/Lakers Finals first half. The Lakers led 51-46 heading into the 3rd quarter when Pierce took over. He scored eight points on three straight possessions to start and then picked up an assist on the next two. Then things got hairy. Kendrick Perkins slammed into Pierce on an attempt at blocking a Kobe shot when Pierce fell to the ground writhing in pain. He rolled around holding his knee clearly in a ton of pain as every Boston fan, including myself, held their breath. His teammates rushed over picked him up and had him wheeled off in a wheelchair. Just 1 minute 45 seconds of game time later Pierce came jogging out of the locker room to deafening cheers. He checked back into the game and quickly knocked down two quick threes and led the Celts to a 1-0 series lead.
Pierce then went on to lead the Celtics with 28 points to a Game 2 win. They had a 2-0 series lead heading back to LA for three. They lost Game 3 and the Lakers seemingly grabbed the momentum by jumping out to a 35-14 lead after the first quarter of Game 4. The Celtics were down as many as 24 in the first frame and didn't make up much ground heading into the half. But Pierce didn't let the Celtics quit. He lead the team in scoring that night with just 20 points but added 7 rebounds and 7 assists and he sparked a 21-3 run to end the 3rd quarter to cut the deficit to just two points. They went on to win Game 4 97-91 before losing Game 5 to head back to Boston with a 3-2 series lead.
June 17, 2008 a 20 year old mlz paid well over $1,000 for a seat in the balcony for Game 6 and boy was that the best $1,000 I have ever spent. The first quarter was a bit rocky but they seized the lead and never looked back. Pierce tallied just 17 points but added 10 assists en route to winning his first NBA title and his first Finals MVP trophy.
On October 28, 2009 an emotional Pierce stepped up to receive his ring a complete emotional mess before gathering himself to score 23 points to go with 11 rebounds to win an incredible opening game against Lebron and the Cavs. Pierce and the Celtics picked up where they left off. They won a franchise record 19 consecutive games also set a franchise record for best start with a 27-2 record to begin the year.
Unfortunately this season would be marred by injuries, namely to Kevin Garnett. Pierce wouldn't let the team quit though. Without Garnett, Pierce raised his game to post his best scoring and rebounding numbers of the new big 3 era. Pierce was so good this year he kept the Celtics in playoff contention without KG. When the playoffs came around he got the help of Rajon Rondo to help knock off the upcoming Bulls in 7 in maybe the most exciting playoff series in recent memory.
Round 2 against the Magic is when Pierce really imposed his will. In Game 1 the Celtics fell behind by 28 points early in the third quarter before rallying to finish the quarter on a 25-13 run to stay in the game. As per usual Pierce scored 16 of his 23 points in the second half. The C's cut the lead to just four points when a Ray Allen three rimmed out with just 43 ticks left on the clock. Reddick made two free throws with 14 seconds before Pierce showed his Celtics would never quit, draining a three to cut it to three. Reddick went on to make two more free throws and ice the game but the heart this team showed is what's important and what Pierce has brought to Boston. And there is more where that came from...
Pierce got into early foul trouble which took him out of a rhythm and really completely out of the game. But despite spending so much energy in Game 1 the Celtics found a way to win Game 2 and tie the series heading back to Boston.
In Game 3 Pierce scored 27 points and went 14/14 from the line. But the Celtics couldn't overcome 15 minutes from Stephon Marbury and 25 minutes from Brian Scalabrine to beat a Magic team that caught fire. They shot 59% from the field and hit 9 threes en route to a 117-96 win.
Game 4 Pierce put his 27 in again but this game finished a bit differently. Glen Big Baby Davis hit the game winner and knocked a kid down on the sideline in a hilarious video you may have forgotten about.
The Celtics rode that momentum into Game 5 and on the back of Pierce's 19pts 9reb 8ast they pulled out to a 3-2 lead headed back to Boston where they just ran out of gas. Playing without Garnett all that time took the legs out from under them. Orlando squeaked out a close poorly played Game 6 and then caught fire in Game 7 to advance over the Celtics.

Some folks thought the window may have closed for this era of the Celtics and without question it was to some extent. They weren't the dominant 66 win team of a few years ago. They finished with 50 wins which was good enough for the 4 seed and another division title.
The highlight of the regular season was Paul Pierce making his second appearance in the Three Point Shootout during All Star Weekend. Back in 2002, his first three point contest, he made just eight shots. Pierce is such a fierce competitor/perfectionist that it had been eating at him for eight years. He won the 2010 Three Point Shootout on the same floor Larry Bird did it 20+ years ago and he did it with a nod to Larry with the finger point.
It took eight years for Pierce to have the opportunity to evolve his game and really focus on becoming an important three point shooter. When he got that chance in 2010 he didn't let it slip. He posted a score of 17 which was a tie for the best with Chauncey Billups before Pierce's clutch factor kicked in. In the finals he posted a 20 beating both Billups and Steph Curry. Afterwards he said...
"It's not up there like winning a championship, but there's definitely some pride in going out there and being in the competition. And this is like one of those things where I wanted to win because of what I did in '02. And I take pride in every competition, whether it's basketball, shooting, checkers, chess, this is something that if I'm going in, I might as well try to win. It's something that's more hardware for the trophy case."
He is a perfectionist and he is very smart. If you don't think Pierce was in the gym shooting threes during every All Star Weekend you are crazy. He is a perfectionist and that's just one of the many thing to love about him.
By the time the end of the 2009-10 season came to a close the Celtics seemed to have run out of gas once again. They went just 3-7 over their final 10, including losses at home to Houston, Washington and Milwaukee as well as a loss on the road to the Knicks. Over those final 10 games they allowed an average of 104.6ppg. They had no legs, no defense and seemingly no life.
However when the playoffs started they were able to build some momentum. They beat Wade and the Heat in 5 while holding them to just 84.25ppg in the Celtics four wins. Sure you can absolutely attribute that to an overachieving Miami team that had just Dwyane Wade to rely on. However when you are an aging champion sometimes you just need a little confidence to get your legs back under you and that's exactly what this series did for the Celtics.
If you watched the end of that Celtics season, like I did, you would have thought drawing Cleveland in Round 2 would be the end of the line. Lebron and the Cavs finished with 61 wins good for the best record in the NBA.
Now, if you look back at the box scores from this series you would come away saying Pierce really sucked, especially if you just look at Game 1 and make up your mind about his defense. I would say that's absolutely wrong. In Game 1 Doc Rivers had PP look for his shot first and foremost. That strategy happened to pay off for this game despite Lebron going off for 35-7-7 while Pierce struggled shooting just 5/17. Thankfully it only took Doc one game to realize that strategy was that of a JV high school coach and adapted accordingly.
In Game 2 Pierce's defense paid dividends and he only took 10 shots. He saved most of his energy for the defensive end for one of the few times in his career and trusted in his teammates to get the job done on the offensive end and by doing so they won by 18.
Game 3 treated us to one of the better Lebron performances of all time. 38-8-7 with 2 blocks... and I'll say it he only had 1 foul? Shaq never played a game with just 1 foul despite being bigger and stronger than everyone like Lebron is stronger and more athletic. There shouldn't be a single game that goes by in which Lebron has under two fouls in a game just based on how awful the NBA's officiating is.
Game 4 saw Rondo go crazy with a 29-18-13 stat line (p-r-a), while Pierce played some good defense holding Lebron to just 7/18 shooting.
In one of the infamous "Lebron quit" games, that all seemed to come against Boston, Pierce held him to just 3/14 shooting from the field while posting 21-11-7 himself and a +33 for you stat geeks. The C's held a 50-44 lead at the half before outscoring Lebron and company 70-44 in the second half. You could argue this was the end of Lebron in Cleveland.
However, I must remind you, while Lebron certainly quit on Cleveland he came out in Game 6 ready to go. But Pierce played a great defensive Game 6 holding Lebron to just 27 points... I know that sounds funny, "only 27 points" but Lebron is so much more athletic than everyone else it's insane. Even if the Celtics lost this game with Lebron scoring 27 points PP would have gotten plenty of props from his teammates. But instead they stuck with the new plan; Let PP check LBJ and play tight D against everyone else while rolling some help around the rim to stop Lebron. Mo Williams ended up netting 22 but Shaq finished with just 11-4 and Jamison shot only 2/10 as the Celtics ended Lebron's days as a Cav. One of the things I can take the most pride in as a Celtics fan (although it's kinda ruined now that he won in Miami twice. Now I just feel bad for Cleveland. I'm getting sad yet again, no tears C's fans... ugh)
Next up was the Celtics getting revenge on Dwight and the Magic. Luckily for the Celts they had KG back and Dwight was A. one year removed from quitting in the Finals and B. one year closer to quitting on being a human being. Guess who had himself a sexy matchup again vs the Magic, especially when KG was back and they didn't have to put up with 20+ mins from Scal...
Tangent: Don't get me wrong I love Scal. He has one of the best basketball brains on the planet, he just wasn't born with the body. He did absolutely everything could with what he was given and that's something to cheer. He is going to make an even better coach than he made player guaranteed. Golden State/Marc Jackson is going to feel lucky to have him, just hopefully they don't trade for Dwight instead of keeping their young fun core together.
...Take a guess as to who put up another big heart filled series against the Magic. Yep, of course PP. 22-9-5 in a Game 1 win followed by a 28-5-5 in a Game 2 win. The Celts took a 3-0 series lead on Orlando before losing Game 4 due to a lack of support for #34. Pierce tallied 32-11 in the overtime game but didn't get enough out of Rondo to pull out the sweep.
Game 5 was a rather odd game. Pierce played 42 minutes yet shot only ⅜ from the field. He zoned in on the defensive end but never seemed to get a rhythm going offensively. But with a 3-1 series lead you obviously have room for some mistakes, because guess who was the hero in Game 6... you guessed right, Mr. Paul Pierce. He totaled 31 points and 13 rebounds in the deciding Game 6 on 9/15 shooting including ⅘ from three and 9/10 from the ft line. Pierce had taken over yet again when it mattered most to help the Celtics get back to the NBA Finals despite being rather underdogs to do so.
I won't lie... I started drinking a few paragraphs ago knowing this was coming. I have just put a dip in, Kodiak Wintergreen because I'm not a douchebag Skoal fraud and because of the thought of the 2010 NBA Finals makes me hurt to this very day... ugh I really don't want to cry... here goes nothing.
In Game 1 Pierce earned himself a technical foul inside the first minute and he ended up playing 46 minutes and put up a 24-9-4 line while committing 5 total fouls. However, Kobe's 30 and Artest's 15 after the matching T's with Pierce really swung Game 1.
Next we watched Rondo and Ray Allen steal Game 2 in LA as they finished with 51 total points while KG and PP finished with just 16 total points. Meanwhile back in Boston, Kobe proved to be the aggressor and won Game 3 for the Lakers, whereas Pierce's 7/12 shooting in Game 4 offset Kobe's 33 points to split the first four games.
Game 5 gave us a nice Pierce vs Kobe storyline. Kobe ended up with 38 points while Pierce ended up with 27 and the win to take a 3-2 series lead in the Finals. However for the second time in franchise history/the last two years they would run out of gas and cough up a 3-2 series lead. Last year it was in Round 2 without KG against a Dwight that cared. This season it would happen at the exact moment that the Lakers would run out of gas themselves. The C's lost 89-67 at LA in Game 6. Then again in Game 7 after scoring just 39 points in the 2nd half of Game 7. I remember sitting in my room watching Game 7 drinking straight out of the handle of Captain Morgans as the Celtics unwound in the 4th quarter. Even still they had another title in sight before Ron Artest hit this stupid three...
I vividly remember being absolutely shit faced not only that night but the next morning at work, where I drove a truck. Can I get a DUI for bringing that up? I hope not. Point is the next day I can remember vividly listening to the radio for a few minutes and starting to bawl my eyes out while driving my truck. I remember listening to Toucher and Rich on 98.5 The Sports Hub. I remember hearing Bill Walton call in to celebrate his son winning a title with the Lakers on a Boston sports radio station. I remember Fred Toucher hanging up on him and I remember loving every second of that. But I also remember shutting the radio off after that and just crying on the side of the road still shitfaced thinking about that bullshit Ron Artest three. I remember Kendrick Perkins getting hurt and being forced out of Game 7. I remember Rasheed Wallace playing the game of his life, in Perks place, yet Kobe's 6/24 from the field was enough to knock off my team who was totally out of gas despite having another title within arms reach. The saddest part wasn't even necessarily that they choked away a second title but more that they choked and tainted the date of June 17th for me and probably many a Celtics fan.

AP3 and I just had this conversation not too long ago, but he put up a good case for the 2012 Celtics, however I feel that I am the most proud of the 2010 Finals losers despite the fact that the Celtics lost Perkins for Game 7 to injury and probably fucked them out of another championship.
The 2010-11 rendition of the Celtics featured probably the best overall game star Paul Pierce had to offer. A 33 year old Paul Pierce came into the year ready to attack. He raised his fg% and ft% and helped the Celtics to 56 wins. However trading Kendrick Perkins for Jeff Green may have set them up for the future but it cost them a chance at competing for this title. They swept a weak Knicks team but then got smoked by the first year of a new Miami team, losing in 5 games. The Celtics killed Lebron's career in Cleveland but with his new superteam he was able to overcome the Celtics like the 2004 Red Sox were able to overcome the Yankees. It may have not been as dramatic, but it got Lebron over a bit of a hump.

AP3's quick opinion has the 2011-12 Celtics as the version of the Celtics' with the most heart and he has a very good point to back him up. They had absolutely no business being in a Game 7 of the Eastern Conference Finals with Miami but Pierce KG and Rondo carried them to another 3-2 series lead that they would eventually blow because Lebron is in fact that good.
Now this past year, they lost Rondo to a knee injury and with it their only true hopes of competing. After they busted out of the playoffs in Round 1, in six games to the Knicks, Danny Ainge and the Celtics' front office apparently decided to make some plans for the future.
First they traded coach Doc Rivers to the Clippers for a first round pick. On the surface the C's didn't get enough but if you look deeper Doc was on the verge of being fired by yet another team before he had KG and Ray Allen dropped in his lap. Without a doubt he was phenomenal as a coach but the only year they won the title and the only year they were really dominant was when he had Tom Thibodeau as an assistant coach plotting the defensive schemes.
Now on June 27th 2013, they have dealt Pierce and Garnett to the Nets for a few draft picks that will likely be later in the first round. The end of an era in Boston.
Pierce had one of the most incredible careers with one team in NBA history. He was an All Star ten times with the Celtics. He was a member of Team USA. He was one of the most clutch players in NBA history. He was even a great poker player. There was nobody better in the history of the game at that step back jumper from the edge of the free throw line extended. He set 13 franchise records for the most decorated NBA franchise in history. He tied one other record and will end up as the Celtics second leading scorer all time. Boston Herald, Celtics die-hard, Bob Ryan called him the best pure scoring machine in franchise history. He has been the most clutch/hardest working Boston athlete since being drafted in 1998. He earned my/many others love with his determination and his perfectionist personality. Paul Pierce in my opinion is the greatest Boston athlete of the last 20+ years. I miss him already. Seeing him in a Nets' uniform is going to break my heart. I was there when he won his first title. I was there when he joined the 20k point club. I saw so many of his clutch shots. I witnessed his unparalleled competitive streak for 15 years. The fact that he is now on another team makes me beyond sad. For a few years now I have thought about what it would be like to lose Brady to retirement, but Pierce joining another team never crossed my mind. I don't care how sad it sounds, I miss you Paul. You are the last connection I have left to my childhood. You are the last athlete I will love in such a way. You are the best Bostonian athlete/celeb of my lifetime. Brady might get more pub, but you were there before him, and you were creating memories and die-hard fans before he was. Thanks for the memories. You are forever a Celtic. #34 will forever rest in the rafters of The Boston Garden.
10/10
Friday, July 5, 2013