Another year in the books and another title for the Miami Heat. Obviously that gives them back to back titles and thanks to Wade and Shaq they have won three of the last eight and are obviously the favorites to win the 2014 title (currently 2-1). Sorry about the lack of UFR's lately. Different events have pushed these out but with the sports world about to come to a grinding halt we shouldn't miss any more for a while. Anyway, let's take a nice stroll down memory lane for this past NBA season.
First let's take a look at some of the biggest storylines/accomplishments/surprises of the year...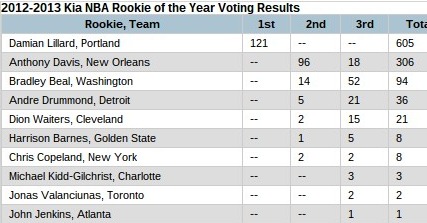 Rookies
Not exactly the greatest rookie class of all time but there were plenty of reasons to be intrigued by the newcomers. Most of those reasons were provided by the Blazers' Damian Lillard. His 19.0ppg (first among rookies), 6.5apg (first among rookies), 3.1rpg, 41.9% shooting from the field, and 84.4% from the free throw line was enough to ink his name into the record books as the unanimous 2012-13 NBA Rookie of the Year. He kept the Blazers relevant for the majority of the year. They were 33-36 and in playoff contention before they managed to lose their final 13 games.
Other notable rookies include Anthony Davis, Andre Drummond, Jared Sullinger, and Bradley Beal. Sure there may have been a couple others that have proven to be useful but this is going to be long enough we don't need to get into Jonas Valanciunas' great finish to the season for the Raptors or Dion Waiters quickly becoming an irrational confidence guy.
Davis and Drummond were in the same boat for most of the year. Davis obviously had the higher expectations coming into the year having been selected first overall in the draft, but their numbers were relatively similar.
In 64 games Davis averaged 28.8 minutes per game, 13.5ppg, 8.2rpg, 1.8bpg and 51.6% shooting.
In 60 games Drummond averaged 20.7 minutes per game, 7.9ppg, 7.6rpg, 1.6bpg and 60.8% shooting.
Both of them fought the injury bug and both were probably asked to do too much in their debut seasons, given the poor teams they were on, especially Davis. Coming into a total rebuilding phase Davis needed to force things a bit more than he would have liked. That lead to the healthy lead on Drummond in the points department but also lead to Drummond's healthy lead in the shooting percentage category. Both of these guys have a bright future ahead of them and Pistons fans should be thrilled with what Drummond gave them given that he was labeled as a big risk going into the draft because of motivational problems. Now the biggest problem with Drummond is his impeccable ability to miss free throws (he made only 59/159 free throws this year for a jaw dropping 37.1% from the charity stripe this season. Even Ben Wallace could get to 40%). Regardless I guarantee we look back at this draft baffled by the fact that Drummond slid all the way to the 9th pick.
Jared Sullinger is a level below those two guys but still in the same boat. He was a big that was bit by the injury bug. In his case though he was just hitting his stride when he was lost for the season. Anybody that watched him in the days/weeks leading up to the injury know he is legit.
In 45 games Sullinger averaged 19.8 minutes per game, 6.0ppg, 5.9rpg, 0.5 bpg and 49.3% shooting.
His stats don't tell the tale of how good Jared Sullinger can be. He won't be a starter on a championship team but he has the potential to be the most important guy off the bench for a championship team. He is one of if not the hardest workers in his draft class and creates great energy for the rest of his teammates. There will be a lot more of that to come, provided he can stay on the floor.
I wasn't going to mention Bradley Beal since he really disappointed this year. All the talk about how he is going to be the next Ray Allen and then you don't really hear from him all year. As much as I would like to rub his forgettable rookie season into the "He's the next Ray Allen" people's collective face, their rookie seasons aren't all that far off. Check this out...
In 1996-97 Ray Allen played in all 82 games, starting in 81 of them, averaging 13.4ppg, 4.0rpg, 2.6apg, 0.9 spg, and 1.8topg, while shooting 43% from the field, 39.3% from three, and 82.3% from the free throw line.
This past year Bradley Beal played in 56, starting in 46, averaging 13.9ppg, 3.8rpg, 2.4apg, 0.9spg, and 1.6topg, while shooting 41% from the field, 38.6% from three, and 78.6% from the free throw line.
With the exception of the games missed by Beal that is about as close as it gets. However nobody has the work ethic of Ray Allen. Maybe I am wrong to laugh out loud when people compare the two but Beal still has a long way to go.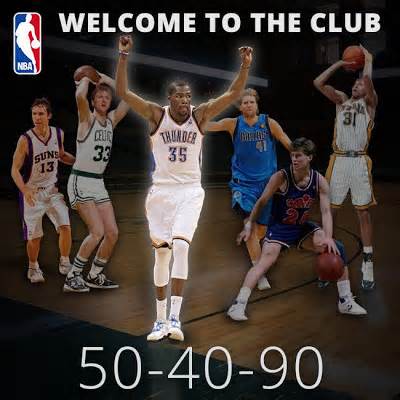 Kevin Durant's Triple Crown
Kevin Durant's shooting splits this year put him in rarified air. Breaking all three shooting marks of 50% shooting from the floor, 40% from three, and 90% from the free throw line has only been done by six guys in NBA history. Steve Nash, Larry Bird, Mark Price, Reggie Miller, Dirk Nowitzki, and now Durant are the only ones to accomplish the feat. Only two of them have done it multiple times (Nash four times and Bird twice). At the ripe old age of 24 Durant might give Nash a run for his money. He is still very young and only getting better, that's a rather scary thought. Oh by the way he also helped his team earn the #1 seed in the West and somehow got zero first place votes even though Carmelo Anthony received one.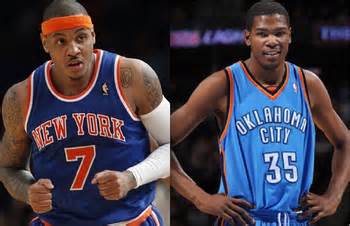 Scoring Race
Carmelo may have beat Kevin Durant, the three time defending scoring champion, by a solid margin of 0.6ppg but it was Durant who held the title for most of the season. That is until the 'Melo returned from an injury on 3/20 vs Orlando from which point he posted these scoring numbers in chronological order... 21, 37, 28, 29, 22, 32, 24, 50, 40, 41, 36, 36, 36, 31 and 25 for an average of 32.5ppg and a 36.9ppg mark for the month of April. Who the best scorer in the NBA is a question nearly impossible to answer at this point.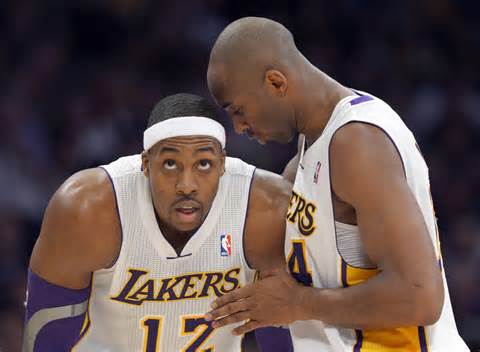 The Lakers suck
What a train wreck of a year for the Lakers. After acquiring Dwight Howard and Steve Nash many people had them pegged as the favorites to win the title. Little did they realize Dwight is a total cancer of a human being. Plus he isn't exactly the best fit for that roster. It amazed me how fast the Lakers fans forgot about how Pau and Bynum struggled playing together since they are both centers and both need to play with their backs to the basket. If you put two guys on the low block you clog the lane and create an easy opportunity for help defense. Yet when the Lakers scooped up Dwight their problems were solved... or not.
The Lakers went through three different coaches before barely creeping into the playoffs. Their 45-37 record good for a tie with Houston for the 7 seed. That earned them four bonus games with the Spurs before they were sent packing in rather pathetic fashion.
Things aren't exactly looking up for the Lakers either by the way. They can't amnesty Kobe because he's Kobe. They shouldn't bring Dwight back because he's Dwight. That leaves them without cap space and without a good roster. The next few years could get really ugly. Get ready for the Kobe trade demands.
PS. RIP Jerry Buss.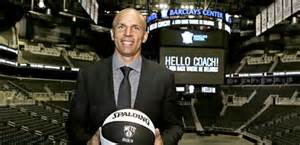 Jason Kidd retires and immediately nabs Nets coaching job
Shocking for a few reasons, none of which are because Billy King is known for being a great GM. Strangely though, I feel like Kidd might be the best possible fit for that team. He without a doubt has one of the highest basketball IQ's in the world and he was about as well respected a player as there is. At times it even seemed like the stars of the league would take it easy on him when he defended them because they didn't want to make him look bad. In 2008 he won a gold medal alongside Deron Williams which should eliminate any chances of him killing another coach. Jason Kidd should help make us remember the days when we thought Deron Williams was better than Chris Paul. I still don't love that roster but I do think Coach Kidd will get that team play better than any other candidate would.
PS. Patrick Chewing should be pissed.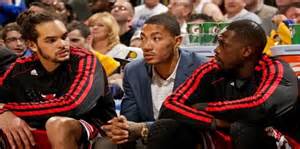 Derrick Rose
I'll keep this one short since I already wrote an entire YAPS... on Derrick Rose. He sat out all season long, as he watched his teammates struggle coming down the stretch. He was medically cleared to play yet claimed he wasn't mentally ready to come back. While his teammates gave every ounce of energy they had left in the tank during the playoffs he sat on the sideline. Joakim Noah even played in the playoffs with a tear in his foot, yet he was out there limping around giving Chicago everything he had. It was good enough to make the second round but that team had a little magic surrounding them going into that 2nd round matchup with Miami especially after that Game 1 win. If Rose had manned up who knows what the outcome of this season would have been.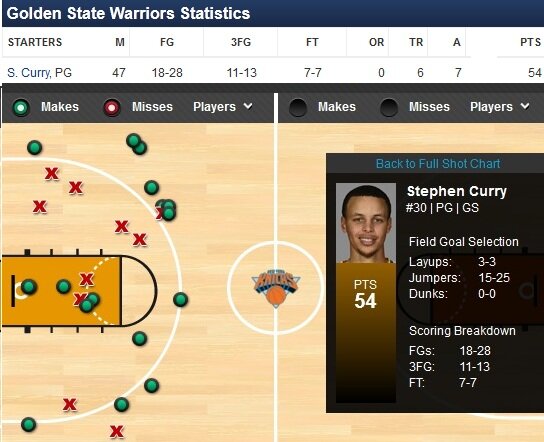 Steph Curry takes a giant leap forward
This guy was able to shake off all those ankle problems that caused some of us to think he might have to retire early. While he may not be out of the woods just yet, as far as his paper mache ankles go, he has shown that he has the potential to be a star in this league.
Curry actually shot better from beyond the arc (45.3%) than he did from the field (45.1%) this season and also poured in free throws at a 90% clip. Curry had perhaps the best three point shooting season of all time. Some might argue there have been more efficient seasons but Curry shot 45.3% while breaking Ray Allen's record for most threes made in a season. The mark now stands at 272 made threes making him only the second player to knock down 250+ three pointers while shooting over 45%. Also for the record he is the first player to hit 250+ threes while dishing 500+ assists.
Some thought the magic of Steph Curry was behind us but this year he not only proved the haters wrong but turned them into fans. Two of his games this year really jump out at me. First the 54 point explosion at MSG where he put his name up high atop the list short of only Kobe and MJ for most points scored by an opponent in MSG since 1985. He rained in 11/13 threes that night making him the first player to ever drop 50 points while hitting at least 10 threes.
The other was Game 1 vs the Spurs in the second round of the playoffs where Curry exploded for 22 points in the 3rd quarter including 14 straight late in that period. In all he dropped 44 points on 18/35 shooting in the double overtime game while dishing 11 dimes.
The Warriors actually ended up losing both of those games but that's not the point. The point is if Curry can stay healthy then this is just the beginning. I am not sure we have ever seen someone like him. With a little bit more experience under his belt he will be putting up big games like this with more regularity and he will learn how to win these games. The sky's the limit for this kid. He is one of the most fun to watch and one of the most fun to root for. The entire world is on the Steph Curry bandwagon that it is just starting to get rolling.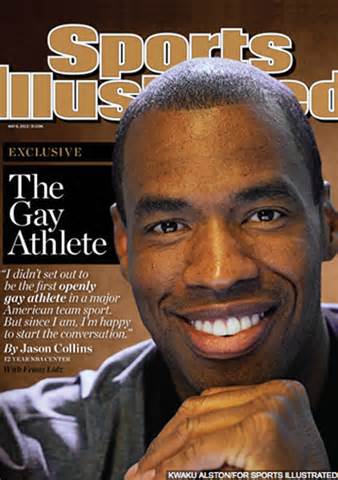 Jason Collins comes out
In the May 6th issue of Sports Illustrated was an article about Jason Collins announcing he is gay, making him the closest thing to a current athlete being publicly out. This was a huge story for some but I would argue it was only considered big by people that hate gays to some degree. I have not talked to a single person who thought it was really a big deal, and I live just outside of Boston. Yes it was really the first story of it's kind, groundbreaking if you will, but not a big deal. It's 2013 people don't care about that stuff nearly as much as they used to. Good for Jason though, part of me hopes he lands a roster spot next season, the other part doesn't want to hear the media asking asinine questions about him being in the locker room.
For this next section let's remember some of the best plays of the year. To avoid repetition and to give you more great plays, the Top Plays will be removed from the individual categories. For example we all know the Jamal Crawford between the legs alley oop to Blake Griffin will make an appearance. But it could find it's way into best dunk, best pass and best play. If you want to watch it three times then go ahead and re-watch the video of it in the Top Plays section three times. Also keep in mind that each section may have a different amount of plays in it. Some will have more deserving candidates than others.
Best Dunks

I know it's 2013 and with YouTube we should probably all be over the wow factor a dunk provides but these ones will get you off your seat.