Game 1 tonight 8pm NBC
After what feels like years of waiting we finally get into the Eastern Conference Finals. The Penguins are the rightful favorites but the Bruins have shown they have that extra gear to get the job done in the playoffs. The Boston faithful have mostly talked themselves into being able to win this series. Outside of Boston I'm not so sure there are many believers. But there is a chance even if it's a small one that they can control this series.
The Penguins are currently -200 to win this series and they have earned that. They have the best player/players in the series and are deeper on paper. But there is a way the Bruins can get this done. They need to come out banging. They need to come out pissed off, hitting the Penguins early and often. They aren't going to out-finesse Crosby and the Pens. But they can get in their heads by hitting them and hitting them hard. If they can set the tone early and let Pittsburgh know everytime they touch the puck they are going to get roughed up it could take away Pittsburgh's biggest advantage.
The B's will need their defense to step up big time. While it has been nice for the B's to get so much offense out of their defense this postseason they can't rely on that. They need their defensemen to stay back and disrupt the potent offense of Pittsburgh.
They also are going to need Tuukka Rask to have the best series of his life. He has let in far too many soft goals thus far in the playoffs, they can't afford to give an offense this good any freebies. They must earn every goal they get. The Bruins need to keep them in check and force them to win games with just a goal or two.
As far as the offense goes for the Bruins they have and seemingly always will be inconsistent. Tyler Seguin, Nathan Horton, and Jaromir Jagr have done next to nothing this playoffs. That might be okay when you are playing the Maple Leafs or offensively challenged Rangers, but against a team on a different level like Pittsburgh they need to step their shit up.
If Claude Julien wants to keep his job, and GM Peter Chiarelli's, completely secure he needs to be posting this or something like it all over their locker room...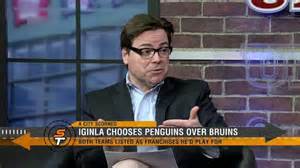 He can't let the Bruins forget that Iginla chose to go to Pittsburgh instead of coming to Boston. And with that they need Jagr to step up and make them eat it. He is fun to watch even when he isn't producing. He uses his body maybe better than anyone to shield the puck and will occasionally steal the puck from his own teammates. But he has yet to really deliver. If he can net one quickly and get some momentum behind him he can take some real pride in beating his former team. Also, along with the Bruins posting headlines all over the locker room saying that Iginla didn't want to come to Boston that should piss Jagr off. In a way it's saying they wanted Iginla more and could light a fire under Jagr's ass.
So ultimately the Bruins need to be even more physical than they were when they won the Cup two years ago. But they aren't going up against the soft Sedin twins. They are going up against the best player on the planet, Crosby, and Malkin who would be the best player on any other team.
All that being said...
Best Bet:
Penguins win series in 5 games +350
While I do root for the jersey the Bruins wear I have never been high on this particular team. I still don't feel like they were the best team in 2011. Things broke their way and they had the hot goaltender. So this year I definitely can't imagine them beating the Penguins in this series and even if they do I feel they are overmatched against the Kings and especially against the Blackhawks.
I can't possibly trust Krejci to keep up his incredible playoff pace since he has mostly been a dud throughout his career in big games. Nevermind Lucic whom is a glorified 3rd or 4th line guy best suited to use his physicality. They need their other guys to step up and again Seguin, Horton and Jagr haven't shown any signs of having any momentum in their favor. That shouldn't change since they are playing a team playing on another level than their previous opponents. Maybe Brad Marchand can find a way to play like he did all season long but that seemed like an aberration even while it was happening. Don't get me wrong he is a great player and fun to watch but he is not a top level offensive player. Their best bet is to play great defense paired with outstanding goaltending, winning games 2-1 or 1-0. I can't see them or anyone slowing Pittsburgh down that much. The Penguins have won the last six meetings with the Bruins for a reason...
Bonus Bet:
Penguins lead series 3-1 after Game 4 +150
This Bruins team does have a lot of heart though and when getting the last change at home they will be able to match Chara against Crosby every time he is on the ice. That to me is good for just the one win.
Saturday, June 1, 2013