With some of the conference tournaments already being in the books, let's take a look at the major conferences and how their brackets have fallen and who just might get the automatic bid to the big dance.
ACC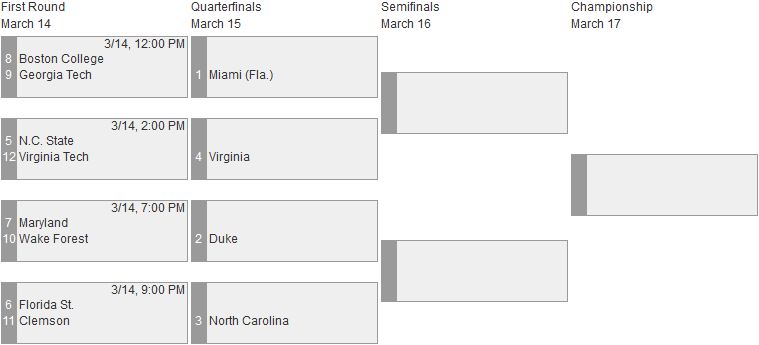 Miami sort of coasted after that Duke loss since they had the conference locked up. They almost got the win at Duke, but Ryan Kelly was just too hot. Now that Ryan Kelly is back and healthy Duke might just be the team to beat. They have no easy path though. If Maryland decides they want to play well, they can absolutely knock off the Blue Devils. If they get past them they will probably play UNC, unless they get knocked off by Florida State who finished just .500 but had to have two home games vs NC State and Clemson come down to the wire. That might not sound too good, but they have some magic around them and could at least pop off the Tar Heels. If Duke can beat their rival for a third time this season, then they will likely draw Miami again, who really got a good draw in their side of the bracket. If the 'canes don't at least make the final I'll be a bit disappointed in them.
Prediction:
Miami just matches up well with, and is probably just plain better than Duke. They should have won the second match-up between the two even despite Kelly hitting everything from everywhere. I wrote down after that game to take Miami over Duke under any circumstances if they meet again this season. I'm sticking with that, Duke can't beat them twice.
Atlantic 10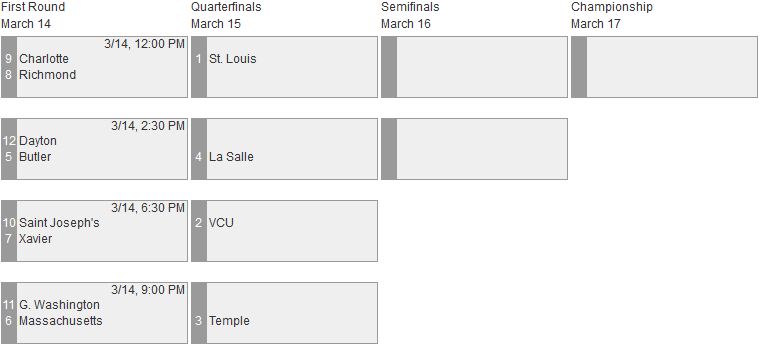 What an underrated conference this is. At least five of these teams is going dancing, though I think six end up making it. That could be through a deep run, or from winning the championship. We shall see. Every team with a bye is at least one team they should be nervous about playing for the right to play them. Richmond played St. Louis tough last time they played, Butler is an at-large bid so that goes without saying for La Salle. VCU may have to face off against Xavier, who knocked off St. Louis a feat VCU themselves couldn't accomplish. And Temple only beat UMASS by one point and George Washington by just two points. So every one will be sweating round two. I think St Louis and VCU survive as bye teams, pitting St. Louis against Butler, and VCU against Umass. VCU can't lose that game with their style, not no way. Butler needs to save some face here after their piss poor close to the season. If they don't make a run in the A-10 tourney then expect them to be bounced early in the tourney.
Prediction:
Brad Stevens is too good a coach to let this team fall apart like this. He can't have some big goofy white guy tearing it up for Gonzaga while his big goofy white guys keep losing. They will avenge the 32 point ass whooping they suffered at the hands of VCU, with a win over them in the championship round. Then they will lose in the first weekend of the NCAA tourney because they will have used all their energy saving face, and they just aren't that great a basketball team.
Big 12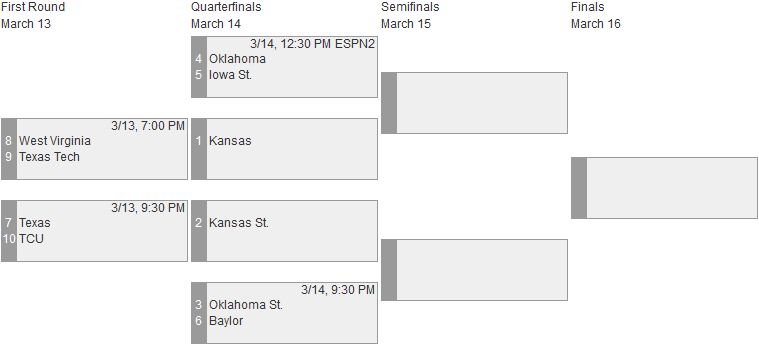 I don't know what to make of any of these teams anymore. Suddenly The Big 12 having ten teams is starting to make the most sense of anything. Kansas should be able to walk to the final round, but Kansas State is going to have a tougher time in their semifinal match-up. That Oklahoma State/Baylor game and then the winner of that playing KSU are going to really good games.
Prediction:
Kansas and Kansas State meet again in the finals, where Kansas owns them. Nothing crazy there, but anything can happen in this one. These teams have all not shown up several times this year. Kansas is the most consistent so let's roll with them. And as crazy as it sounds the Jayhawks could win themselves another championship in about a months time. If Bill Self can keep them motivated, and freshman Ben McLemore's head in the game, they could go deep.
Big East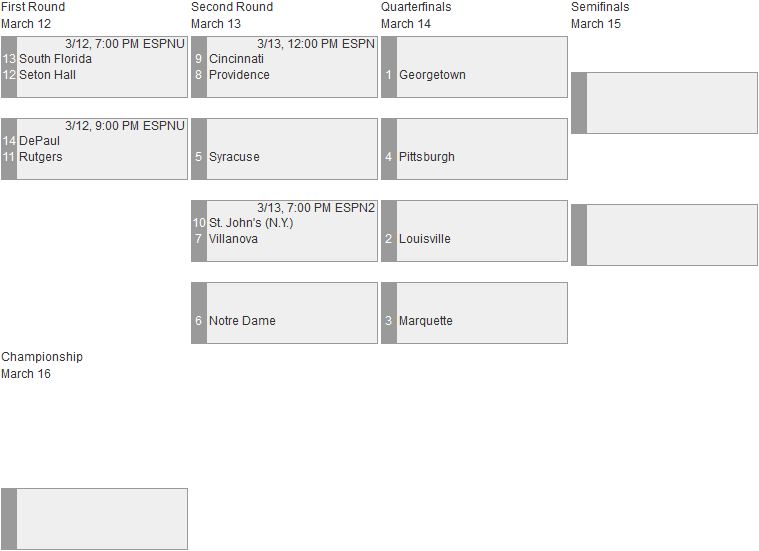 You won't see a weirder bracket than this unless it's for the Denslow Cup. Just a loaded conference obviously. You could see seven or eight teams make it. If UCONN were allowed in they would probably make it as well. As far as this tournament goes, I feel like any one of the ten that have at least one bye can win this thing. Obviously anyone from Villanova down would like to get another win or two under their belts before letting their fate be decided come Sunday. Syracuse to me needs to prove themselves the most, though I can see them getting to the semi final. I'm just not so sure they can beat Georgetown, and for the record I don't think they're going to beat Pittsburgh.
Prediction:
Georgetown wins themselves another Big East title over Rick Pitino and Louisville.
Big Ten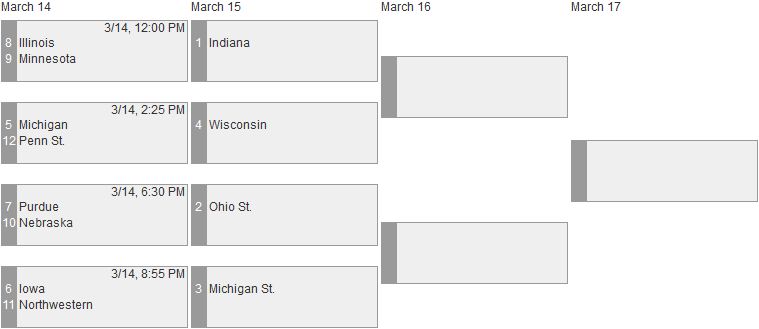 Finally something that resembles a bracket. Of the top four I think Indiana probably had the toughest draw. Both Minnesota and Illinois are legitimate threats to knock them off. No matter who wins that one they will have to show up 110% on Friday. That means I'm giving Wisconsin the nod in the top half since I'm already counting Michigan out. I just have no faith in that team, I don't care that they beat Indiana. I'm not picking a team that has Trey Burke period. Ohio State/Michigan State is a game I really hope we get to see.
Prediction:
Wisconsin takes down the top seed who just narrowly escapes Tubby Smith's Gophers. The Badgers will then go on to beat a Michigan State team that was worn out by Ohio State to claim the 2013 Big Ten title.
PAC 12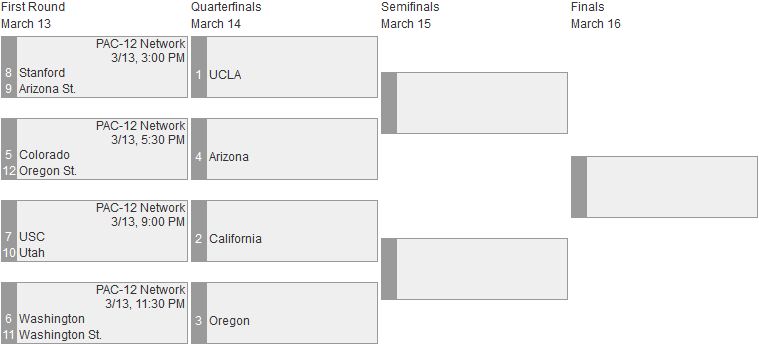 What a train wreck this conference turned out to be. In their last two games UCLA proved they have no go to scorer, and that they can be beaten anytime anywhere, they cannot be trusted. Cal had a great run to the end of their year until they lost their final outing at home to Stanford by 13 points. Oregon lost their final two by 22 @ Colorado and by 10 @ Utah. Arizona lost to UCLA in their second to last game, and the game before they lost @ USC by 11 points. Do I need to keep going?
Prediction:
Colorado is going to win this tournament.
SEC
Here's another crazy Picasso design secretly disguised as a bracket. Thanks to CBS Sports it looks even worse since it's impossible to follow as is. But the winner of the 11/14 plays Missouri while 12/13 winner plays Tennessee. The winner of the Tennessee game plays Alabama, and the winner of Missouri plays Ole Miss. Vandy/Ark winner plays Kentucky and LSU UGA winner plays Florida. Now that I've wasted enough time explaining the bracket, let's get to the meat and potatoes, which I had for dinner tonight.
Prediction:
Florida has the best team and the easiest path to the title round. Even if they face off against Kentucky again they aren't losing to them again.
Monday, March 11, 2013